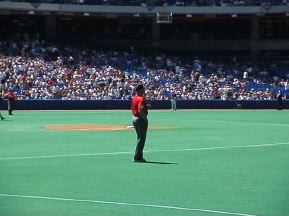 The umpires, when not busy tendering their resignations, really get into the sports highlights on the JumboTron.
C.J. Nitkowski once again ignores the plaintive, wanting cries of his fans in right field and walks on by (without even a cursory Kida-esque wave!)
In the dugout today hung the jersey of RHP Bryce Florie, traded late the night before to the Boston Red Sox for a warm cup of water and some green stamps. By the eighth, I was really hoping LP would put in the empty jersey to pitch.
These kids think Shawn Green is the "best player in America".


want to see pictures from the very same game?
doug was taking pictures to the left of me.
(what a bunch of geeks we are, eh?)